Amogh Lila Prabhu – Often you must have heard the youth saying that we have to earn a lot of money and buy a car bungalow from it,



So that we can live the time of our life happily but have you heard of any such young man? One who dedicates his whole life to God for real happiness.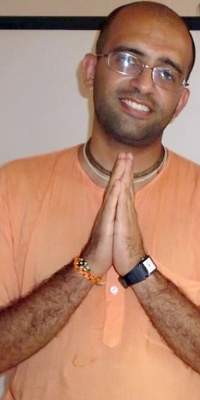 We are going to introduce you to the life of such a young man, whose name is Amogh Leela Prabhu . 
Who is working as a guide for the young generation at present? You will get to read in this article the answer to every question related to the life of Amogh Leela, which must have come to your mind at some point, so let's start-



Who is Amogh Lila Prabhu
At present, Amogh Leela Dwarka is the Vice President of ISKCON, as well as inspiring the younger generation to walk on the spiritual path through the Bhagavad Gita.
ISKCON is an organization promoting Sanatan Dharma all over the world. One of the four sects is the Madhavacharya sect, which is a part of ISKCON.
Amogh Lila Prabhu real name
Amogh Leela Prabhu or Amogh Leela Das real name is Ashish Arora, who was born in a Punjabi family.



Amogh Lila Prabhu family
Amogh ji's father used to work in the RAW agency, who is currently retired and lives with Amogh's mother in Delhi.
Amogha has two sisters, who are married. Amogha is the only son of his parents, who are lifelong celibate saints in ISKCON.
Amogh Lila Prabhu education
Amogha Das was born in Lucknow. Since his father worked in RAW agency and his posting has been in many districts of North East
That's why Amogh Leela Prabhu Amogh Lila ji has not studied up to his 12th from any one fixed place.
Talking about the early education of Amogh Das, he got his schooling in Mizoram, Gangtok, Aizawl, and Darjeeling.
After some time his family moved to Delhi. So he did his further studies in Delhi. He was always counted among the promising students.
After passing 12th in the year 2000, he ran away from home in search of God and stayed out of the house for almost four months.
After four months, he came back home and started further studies. He completed his graduation in the year 2004, he studied software engineering.
He had passed graduation with 89% marks, so his university offered him that he could do a master's degree without giving an entrance exam, but he refused.
He got the job in the year 2004 and he did the job of a software engineer from 2004 to 2010. And in 2010, on Janmashtami day, by going to ISKCON, he became a Hare Krishna Brahmachari forever.



Amogh lila prabhu wiki
| | |
| --- | --- |
| Name | Amogh Leela Prabhu |
| Real Name | Ashish Arora |
| Date of Birth | 1 July |
| Birth place | Lucknow |
| Guru Name | Gopal Krishna Goswami Maharaj |
| Education | Software Engineering |
| Work | Dwarka Vice President of ISKCON |
| Wife's name | Not married |
| Current place of residence | Dwarka ISKCON New Delhi |
| Favourite Politician | Sushma Swaraj and Narendra Modi |
| Hobbies | Glorify god |
| Net Worth | 0 |
| Official Facebook | https://www.facebook.com/AmoghLilaPrabhu |
| Twitter  | Twitter Id |
| YouTube | My Ashraya |
Amogh Lila Prabhu spiritual journey
When Amogha used to go out of the house with his parents in his childhood and if he saw any temple, mosque or church on the way
So they stood in front of him, folded their hands and bowed their heads and said 'Jai'.
Amogh tells that he had no understanding of these things, but when his mother tells him these things of his childhood, Amogh ji is in great surprise.
And think that at an age when children do not know what are temples, mosques and churches? What happens to them? At that age, they used to do all this
Whereas no one had taught him to bow his head in front of the temple, mosque and church.
Amogh Leela Prabhu ji Amogh Lila says that it was the sacraments of his previous births that he had an inclination towards spirituality since childhood.
When he was studying in class 7th, there was a chapter in his book, in which seven verses of Bhagwat Gita were given with meaning.
In one of the verses it was told that the mind is very fickle, the mind is very strong, it does not listen to anyone.
So when Amogha read it, he felt that his mind is being told here that his mind is very fickle, his mind does not listen to anyone.
Then they started thinking that how did this verse come to know about my mind?
And he went to his teacher out of curiosity and said ma'am, my mind is being told this, how can I know that my mind is restless and does not listen to me.
Then his mother said that this is the verse of the Gita, in which the entire human race has been told.
Right now you have only 07 verses in your syllabus, although there are 700 verses in the entire Bhagwat Geeta.
Then Amogh Lila Das came to the mind of Amogh Lila that when only seven verses have opened my weakness, then 700 verses will tell about my whole life,
That is why the yearning to read Bhagvat Gita arose in his mind and from then onwards his attraction towards Bhagavad Gita and spirituality started increasing.
How to join ISKCON Amogh lila
Amogha Das was very much interested in reading the Bhagavad Gita, so he read the Bhagavad Gita written by about eight authors.
And apart from this, he used to search for reading the Bhagavad Gita written by many other authors.
So in this search, he found a Bhagavad Gita which was written by Prabhupada ji, after reading it Amogh Das felt that I have read so many Bhagavad Gita,
But from what is written in this Bhagavad Gita, it seems that the person writing it must have known Lord Krishna very well or has been with Lord Krishna.
Because in the Bhagavad Gita of Prabhupada Ji, the essence of Lord Krishna has been explained in very simple words.
So all these things kept going on in his mind and after passing 12th class, at the age of 18, in the year 2000,  Amogh Lila left a letter in his room in the name of his parents.
It was written that I am going to find God, and when God is found, I will come back home after thanking him and go in search of God from home.
Amogha Das in his school time Cricket, Badminton, Volleyball, Dancing, Painting, Singing, Football, Drawing, Fancy dress, Poetry writing
Apart from this, he was proficient in many talents. Along with this, he always came first in his studies. That's why they used to think that God has given me so much, but I have not given anything to God.
That's why I should at least thank God, so he ran away from home to thank God. He went to many temples, ashrams, saints and babas and asked them for the address of God, but without any success.
Then suddenly he came to know that in the Bhagavad Gita I had read Prabhupada had written very good things, so let's go to ISKCON
If this is an international organization, then there will not be much corruption and deception, may God be found there. So Amogh reached Amogh Lila East of Kailash Dwarka ISKCON temple, where he stayed as a Brahmachari for three months.
And all the questions in his mind towards God, he got answers to all the questions there and he was completely satisfied that Krishna is God.
After three months, Amogh Lila told the saints that they had run away from home, and then the ISKCON people said that you have done wrong.
You should tell your parents then their parents came to the ISKCON temple and take Amogh home from there.
Where then he started his further studies. So this is how he got in touch with ISKCON Temple.
In the year 2010, Amogh Amogh Lila came to the ISKCON temple on the day of Krishna Janmashtami and again became a Brahmachari, where he stayed for three years.
And in the year 2013, he came to Dwarka ISKCON Temple. Since then till today Prabhuji is giving his services there and at present Dwarka is the Vice President of ISKCON.
Amogh Lila Prabhu guru
When Amogha read Srila Prabhupada's Bhagavad Gita, the thought came to his mind that if I ever get to meet him in future, I will take initiation from him.
But Srila Prabhupada left the body even before the spiritual journey of Amogh Das Amogh Lila started.
Therefore Amogha Das took initiation in the year 2006 from Param Pujya Gopal Krishna Goswami Ji Maharaj in the East of Kailash and became his disciple.
Why did Amogha Das choose ISKCON?
There were three reasons for Amogha joining ISKCON.
First– Attraction towards Bhagavad Gita.
Second– God has to say thank you, (You have read about this above why he wanted to say thank you to God)
And third– He believed that people have money, wealth, money, car, family everything, due to which people are happy from the outside,
But they are very unhappy inside the mind, so they wanted to serve the mind of the people so that they become happy from the inside also.
So when he came to ISKCON for the first time, he felt that his three things would be fulfilled from this one place, because here one will get to read Bhagavad Gita.
I will use what I have in the service of people, then God will be thanked.
And I will solve the problems of the people with my knowledge so that their minds will also be served.
So they could see the fulfilment of all three things only in ISKCON.
So he thought that one day I will come to ISKCON and become Hare Krishna Brahmachari forever and that's why Amogh Lila joined ISKCON.
When Amogha became a saint, his parents' reaction
Amogh Lila ji says that when children are small, every parent shows their child's future to an astrologer.
So my parents also showed my future to an astrologer, and then they told my parents that. Your child will run away from home in search of God at the age of 18-20 years and will become a saint.
So when his parents came to know in the year 2010 that their only son Ashish Arora was going to become a complete saint.
So it was a little sad, but since he already had an idea that he would become a saint, then gradually he accepted this fact.
And today their parents are happily proud of their child infallible Leela. That he is serving society selflessly and is giving the right direction to society.
Amogha's mother herself is also currently serving in ISKCON.
When Amogha's relatives came to know about this, they used to advise Amogha that
See son, what is there in becoming this sage saint? These are all very crooks, don't fall into these gimmicks.
You are an engineer, young, educated, beautiful, so marry someone and settle down, because that's what a simple life is like.
Apart from this, Amogh's school friends and office colleagues also understood this.
That this guy is of a different type, it is not ordinary. It will do something big going forward,
Because Amogha was a saint in his previous birth as well, so in this birth, his spiritual journey did not start from the beginning,
Rather, it started from where he had left in his previous life.
Because this is the principle of a spiritual journey that from where we left in the previous birth, it starts in front of it in this birth.
So when Amogh Lila was in school, he used to tell his class friends and his co-workers about spiritual life and devotion during the job,
Used to stop everyone from being slanderous, and jealous, asked everyone to be happy, and asked those who were non-vegetarian to give up meat-eating
That's why his friends and his colleagues used to tell him often that you are a saint.
That's why when they came to know that Amogh has now become a complete saint, they all became very happy and they too are proud of their companion, their friend.
Along with this, the boss of the company in which Amogh used to work, still visits the Dwarka ISKCON temple.
And they are very happy to see Amogh and praise him a lot.
Amogh Das Amogh Lila says that before he became a Hare Krishna celibate, he used to be only happy with the people he had in his life,
But after he became a Hare Krishna celibate, all those people are very, very happy with him and proud of him.
Amogh Lila Prabhu job life story
Amogh Lila Das Amogh Lila ji tells that he worked for 06 years and when he was on the job, the biggest problem in the beginning was getting up early in the morning.
Because if there was a delay in getting up in the morning, then the whole timetable of the day would get spoiled.
And the whole day was wasted because the most important thing to lead an orderly life is to wake up early in the morning.
So Amogh Das used to wake up early in the morning and do Hare Krishna Chanting after retiring from routine.
His aim was to do 16 rounds in the morning, but on the day he used to wake up late due to laziness.
On that day, instead of 16, he used to do 12, sometimes 10, sometimes 8 garlands and on some days, if he got up late
So he used to leave for office only after doing 02 garlands or without doing garlands.
Amogh Das Amogh Lila ji says that the day he used to go to the office with only 02 garlands or without garlands
He used to take a lot of classes in the office that day.
Boss is angry, if you do any work, you make mistakes again and again, get angry, get tired, don't feel like working
And the day when 12 or 16 garlands were used, that day everything was done in a good way.
And the whole day used to pass happily. Whatever work he used to think about, that work used to be done very easily.
Because the morning time was spent with Krishna, the whole day used to be smooth like butter.
Amogh Das ji used to go to ISKCON twice a week during his job.
Bhagwat Gita classes used to run on Thursday evenings at East of Kailash.
So Amogh Das used to reach ISKCON straight from the office to attend the Thursday class.
And on Sunday morning at 04:30 am Mangal Aarti used to visit the ISKCON temple regularly.
No matter how cold it was or how heavy it was raining, Amogh was sure to go to the Mangal Arti.
For this, he used to book an auto on Saturday evening itself that brother, come tomorrow morning at quarter to four, I have to reach East of Kailash at half past four.
And for this they used to give extra money to the auto driver, so in the greed of money the auto driver came at quarter to four in the morning.
He himself used to call Amogh that brother, come, I am standing outside, so Amogh used to reach Mangal Aarti like this.
Thus Amogha's Sunday routine was to attend the Mangal Arti, chant Hare Krishna with the devotees,
Listen to lectures on Bhagavad Gita, get prasad with devotees and return home after doing some temple service.
Apart from this, he used to lead a normal life during the rest of the week.
Used to work with great awareness in the office, used to cooperate with parents at home, used to spend time with them,
Used to bring goods from the market, used to laugh, play, talk etc.
But two days of his week were fixed for ISKCON
And to live such a systematic routine, the most challenging thing was to sleep on time at night.
Because when you sleep on time at night, then only you will be able to wake up early in the morning.
Amogh ji used to take one and a half hours to go from his home to the office and another one and a half hours to come back.
That's why three hours of his day used to be spent on travel, but he used this time well.
He used to read Bhagwat Gita for two hours during this time and also used to take a power nap for one hour due to tiredness.
And at the same time sometimes I used to chat with my friends.
The day when I didn't feel like reading Bhagwat Gita, I used to listen to the lectures of ISKCON's Bhagwat Gita in MP3 format on my mobile.
That's why Amogh Das Amogh Lila says that spiritual life is also possible along with cooperative life,
But this is possible only when we have a yearning for spirituality and devotion if we want it deeply.
So God gives us wisdom that how to make time for our spiritual life and devotion.
And those who keep complaining that we don't have time for devotion, are too busy,
So these are all excuses for not doing bhakti, and this shows that you have absolutely no inclination towards bhakti and spirituality.
Why does Amogh Leela Prabhu make everyone laugh?
Amogh Leela Das Amogh Lila ji says that in our society it is believed that devotees are very serious.
But being serious does not mean that we forget to laugh.
To be serious means that the person is very serious about his spiritual life,
When he takes the name of God then he should become serious, if he reads Bhagavad Gita, he should read it seriously.
It is not that he stops talking to his family and society at all, stops laughing at all.
The spiritual journey is a blissful journey, the person travelling in it is always happy.
And the people who come in contact with him are also filled with happiness.
The quality of devotion is also that the devotee attains ultimate happiness and ultimate peace.
What is the need for spirituality in our life?
Amogh Das ji Amogh Lila says that when he was going to become a saint, his parents, relatives, society and friends told him the same
When you get married and settle down, that is a normal life.
Nothing will be achieved by going into spirituality because we have no need for it.
This is a kind of belief, ho-ho, this should also be done but little by little.
But if seen in reality then every human being in our society is in great need of spirituality.
Because people have money, power, family, house, wealth, beauty, fan following and all those things which are considered to be the basis of happiness in society.
But in reality, there is no happiness in their life, their life is completely hollow.
And they fill this hollowness with alcohol, cigarette, night party etc. even then their life remains hollow,
Because they do not know that this hollowness can be filled only by spirituality and devotion.
But due to ignorance people are stuck there and that leads to spirituality,
They keep discouraging him that if we are stuck here, then you also get stuck here.
Amogh Lila Prabhu struggle life story
Amogh ji tells that he had come in contact with Hare Krishna Devotees from the year 2000 itself after 12th
And during his graduation period from 2000 to 2004, he was constantly in touch with the devotees of ISKCON.
He was also surrounded by the vices and attractions of the world, but during this, he always worked on his spirituality and devotion.
Due to this, the vices could never overpower them and they never had any idea about it.
That they have to struggle with all this. All these types of disorders went away on their own.
His fellow friends and colleagues also sometimes used to make fun of him and what is he doing?
There is nothing in this, you are handsome, at this time you should have had a girl's hand in your hand, but you are roaming around with a rosary.
Amogh ji Amogh Lila tells that all these things never had any effect on him,
Because he always worked on his spirituality and devotion, everything became easy.
How to Become an Amazing YouTube Star: –
When Amogh Das Amogh Lila became a newly celibate, at that time he was living in Mayapur Dham, during that time he met Shri Radha Rasikdas Prabhu, a member of Hare Krishna TV.
He told Amogh that I want to shoot some of his videos, and then Amogh said that
Prabhuji is a great Vaishnava monk in Mayapur Dham, you make videos of him, I am a small celibate.
Then Shri Radha Prabhu ji said that everyone's videos are being shot, so I want some videos to be shot for you too.
So Amogh Das shot some videos of Amogh Lila and uploaded them on the channel, then those videos went viral, due to which Amogh slowly became famous.
So Shri Radha Prabhu said to Amogh Leela Das that all your videos are playing on YouTube so I think you should shoot some more videos.
Then this time 40 videos of Amogh were shot and uploaded in Dwarka ISKCON, Delhi, and all those videos also became hits.
After this 40 more videos were shot, in this way 100 videos of Amogh Leela Prabhu ji were shot, all of which went viral and Amogh ji became a YouTube Star.
Presently the videos of Amogh Leela Prabhu ji are uploaded on My Ashraya and Hare Krsna TV YouTube channels.
Why should we do devotion:-
There are many ways to get temporary happiness and joy in the world, but that happiness comes for some time and goes away.
But if we want to get happiness and joy permanently, then it can be achieved only and only by devotion.
All kinds of pleasures have been arranged in our society to give pleasure to the senses.
Eating delicious food, seeing something beautiful, touching something soft, etc., all these give pleasure to the senses.
There is a system for physical happiness, there is a system for mental happiness, but there is no system for spiritual happiness.
We can get this spiritual happiness and satisfaction only by doing devotion, so we should do devotion.
Devotion makes a person responsible, aware and self-dependent and makes a person careless from careless.
How did you like this information, do not forget to tell us by commenting. We look forward to your comments.
I hope you have got almost all the information about Amogh Lila's Biography. Still, if you have any information, then definitely tell us by commenting.
Read More-
How to join Iskcon Permanently
Thanks for reading Amogh Lila Prabhu's Biography article.
Answer your questions-
Q. Where is Amogh Lila Prabhu right now?
Ans. Dwarika ISKCON New Delhi ( India)
Q.What is the real name of Amogh Lila Prabhu?
Ans.  Ashish Arora
Q. Amogh Lila Prabhu married or not
Ans. unmarried